17 May 2006 @ 18:57, by ida



Motivations for contributing to online communities are many.

- Anticipated Reciprocity
- Increased Reputation
- Sense of Efficacy

The above three motivations were outlined by Peter Kollock in "The Economies of Online Cooperation: Gifts and Public Goods in Cyberspace").

- Communion (Sense of Community) - implicit in the above - was also outlined as a significant motivation by Mark Smith in "Voices from the WELL: The Logic of the Virtual Commons").

Wikipedia has a page dedicated to the topic here, in which each of these motivations are briefly examined along with the role they are perceived to have played out in online communities.

Even though wikipedia covers the topic of communication network rather extensively - it even has a page dedicated exclusively to MySpace - very little can be found, to this date, relating to NCN's own history and pioneering efforts in that domain. A Wikipedia query for "New Civilization network" only yield the following result: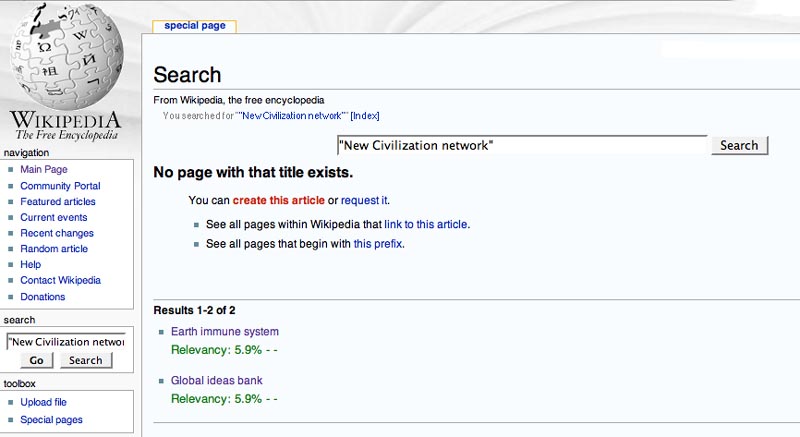 Out of the two results above, one [link] is a page on the topic of Earth Immune System which contains a link to an essay dated 04/12/03 by author Andy Lehman on his NCN-hosted blog, Subtle Psychopathy and Schizophrenic Supermen, Gandhi Was a Cultural Oncologist, and the other [link] is a page about the Global Ideas bank , which contains a reference to "the work of several volunteer programmers and technical wizards (especially Flemming Funch of the New Civilization Network)" Other than that, Wikipedia offers no definition or description of what the New Civilization Network itself is about, nor is any link provided to the New Civilization Network's main page or to the NCN poetic manifesto.