18 Jun 2007 @ 20:37, by Unknown


"It is in vain to say human beings ought to be satisfied with tranquility: they must have action; and they will make it if they cannot find it. Millions are condemned to a stiller doom than mine, and millions are in silent revolt against their lot. Nobody knows how many rebellions besides political rebellions ferment in the masses of life which people earth."
---Charlotte Bronte, "Jane Eyre"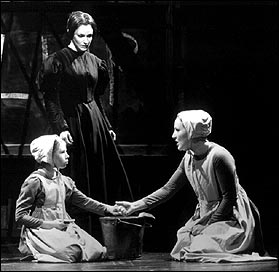 My name is Jane Eyre... I was born in 1820, a harsh time of change in England. Money and position seemed all that mattered. Charity was a cold and disagreeable word. Religion too often wore a mask of bigotry and cruelty. There was no place for the poor or the unfortunate.

"The percentage of poor Americans who are living in severe poverty has reached a 32-year high, millions of working Americans are falling closer to the poverty line and the gulf between the nation's 'haves' and 'have-nots' continues to widen." ---Tony Pugh, McClatchy Newspapers, 02/22/07

According to analysis of the latest available 2005 census figures, "nearly 16 million Americans are living in deep or severe poverty. A family of four with two children and an annual income of less than $9,903 - half the federal poverty line - was considered severely poor in 2005. So were individuals who made less than $5,080 a year.

"The McClatchy analysis found that the number of severely poor Americans grew by 26 percent from 2000 to 2005. That's 56 percent faster than the overall poverty population grew in the same period. McClatchy's review also found statistically significant increases in the percentage of the population in severe poverty in 65 of 215 large U.S. counties, and similar increases in 28 states. The review also suggested that the rise in severely poor residents isn't confined to large urban counties but extends to suburban and rural areas," Pugh wrote.

"These and other factors have helped push 43 percent of the nation's 37 million poor people into deep poverty - the highest rate since at least 1975."



Picture: "Stories of the grinding poverty among the survivors of Hurricane Katrina in New Orleans vividly illustrate what many say is a forgotten truth of modern American life — that pockets of desperate poverty still exist in a country of unsurpassed wealth and privilege," Kelley Beaucar Vlahos reported for Fox News, September 9, 2005.





Category: Liberty, Sovereignty

---
3 comments

2 Jan 2016 @ 14:33 by @198.211.110.92 : juegos online
Diviértete con los mejores juegos de Disney Channel, Disney XD, películas Disney y mucho más!


---
29 Apr 2016 @ 06:55 by @103.12.162.4 : brilliant! I would like to share this ar
Togel Online Singapore
Togel Online Hongkong
Bandar Togel Singapore
Bandar Togel
Togel Online Terpercaya
Bandar Togel Online Terpercaya
Togel Online
Agen Togel Online Terpercaya
Agen Togel Online


---
27 Sep 2016 @ 12:58 by Black Magic Specialist @115.252.120.218 : Black Magic Specialist
awesome post...


---
Other entries in Liberty, Sovereignty
1 Oct 2015 @ 17:58: Anarchy vs. Psychopaths in Control
10 Apr 2008 @ 01:20: Be Peace: A Call to Awareness
30 Oct 2007 @ 05:54: Collapse of USA
27 Jul 2007 @ 21:32: New Civilizations Visions
28 Jun 2007 @ 17:25: Commonsense, Fascist Regimes and the Ego
20 Jun 2006 @ 11:12: American ???
27 Nov 2005 @ 10:48: Prejudice
8 Jun 2005 @ 19:17: The Liberal Bias
14 Mar 2005 @ 10:59: U.S. Human Rights Report ... by China
21 Jul 2004 @ 23:48: FORD THEATER AND ME: Smithsonian Part 1




---