27 Feb 2005 @ 04:18, by Tom Bombadil


Spell-binding visuals, accompanied by Kawai Kenji's moody and haunting music, Mamoru Oshii has done it again:




A thick web of technology has engulfed the earth, and those who have installed the latest version of mechanical "brain"—they retain just a "ghost" of organic material—are left to cope with the remnants of humanity, which exist only as faint neurological impulses.

Oshii's world is the kind that infects cyberpunks' dreams. And it's a substantive one, with enough material to launch a dissertation or two.

The story follows Batou, an android who works for a secret law-enforcement agency. He has been ordered to track down the makers of a trigger-happy model of "gynoid"—a built-for-sex cyborg. His chase leads him first into the depths of organized crime, and then to an offshore factory, where he discovers a slave trade in young girls.

The entire narrative unfolds in a disorienting haze. Mechanical brains are subject to hackers, and Batou is sometimes swept away by an unreality manufactured by his enemies.

Throughout Ghost in the Shell 2, Oshii obviously intends to displace the audience, to unmoor us. We are on the edge of a major shift in consciousness, his film tries to tell us; the advent of new technologies will forever alter our relationship to what's "real."

It's not a new theme, and was also central to Oshii's original Ghost in the Shell. That film, which introduced Batou, was one of the biggest-selling videos of 1995, and introduced a generation of filmgoers to anime. It's generally credited as the central inspiration for The Matrix.

Ghost in the Shell was a serious sci-fi film, but also included some unintended, kitschy joys—goofy, clunky dialog, exposition that felt completely unnatural and animation that, though striking, today looks uneven and jittery. The second Ghost in the Shell (it's not exactly a sequel) is objectively superior—more elegant, accomplished, disciplined and beautiful to behold.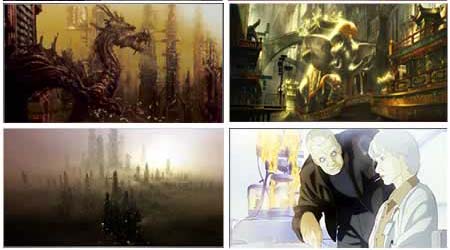 The clichés have been tamped down to a considerable extent (the main characters cite poetry and philosophy to each other, rather than talking in purple prose), and Oshii draws from a much richer emotional palette. Some moments carry a deep sense of dread, others have a film-noir suspense. Trippy carnival scenes vie with a few bursts of graphic violence.

But the most powerful sequence shows Batou coming home to a basset hound who is overjoyed to see him. There's just a hint of connection there—Batou, the cyborg who is all alone in the world, senses deep inside what it feels like to be human. He knows being affectionate has some value, but isn't quite sure how to feel it. It's almost unbearably sad.

—Jason Silverman at Wired.com




Does that basset hound seems familiar?

Hmmm...remember Avalon?