14 Jun 2004 @ 09:43, by D

Idina Menzel as Elphaba ("Wicked") photo by Joan Marcus

"That's why I call myself a witch now: the Wicked Witch of the West, if you want the full glory of it. As long as people are going to call you lunatic anyway, why not get the benefit of it? It liberates you from convention."




Elphaba:

I'm through with playing by
The rules of someone else's game
Too late for second-guessing
Too late to go back to sleep
It's time to trust my instincts
Close my eyes
And leap...

It's time to try Defying Gravity
I think I'll try Defying Gravity
And you can't pull me down

(...)

I'm through accepting limits
Cuz someone says they're so
Some things I cannot change
But till I try I'll never know


I'd sooner buy Defying Gravity
Kiss me goodbye, I'm Defying Gravity
And you can't pull me down!

(...)

So if you care to find me
Look to the Western sky!
As someone told me lately
Everyone deserves the chance to fly
And if I'm flying solo
At least I'm flying free
To those who ground me
Take a message back from me!

Tell them how I am Defying Gravity
I'm flying high, Defying Gravity...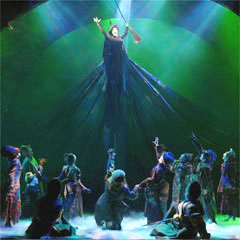 CITIZENS OF OZ:
Look at her
She's Wicked
Get her!!
ELPHABA:
Bring me down!
CITIZENS OF OZ:
No One Mourns The Wicked
So we got to bring her -
ELPHABA:
AHHHH!
CITIZENS OF OZ:
--DOWN!
"Defying Gravity", lyrics from the Broadway Musical Wicked, based on the book by Gregory Maguire.
Music and lyrics by Stephen Schwartz
Wicked is [among other things] about the nature of Good and Evil, how you tell them apart, and what makes you one or the other. In Wicked, Gregory Maguire showcases a variety of Belief systems and their tenets on Right and Wrong. Organized Religion, Education, a Cause, the lower class, the upper class, the tribal class, each of these groups indoctrinates its members with the Truth about Good and Evil, and each appears in some guise or other in Maguire's Oz. All this, as our previous two-dimensional opinions about the Wicked Witch of the West, are turned inside out by reexamination in light of additional information. "Give me a child until he's six and he's mine for life" some thought dictator once said. Wicked makes you think about what else you absorbed at the age when you learned without questioning that Elphaba was a Wicked Witch and therefore deserved to die...
----Strange Words: "Wicked"